Abdominal Pain During Pregnancy
21.02.2017 Andrew Johns 1 Popular
Abdominal Pain in Pregnancy
Is it possible to have abdominal pain during pregnancy? It actually is possible and happens quite often. Most often abdominal pain is caused by physiological changes, and though it can cause a slight discomfort to a future mom, it's quite normal. Some pains can be even pleasurable for some moms. So what actually causes those pains?
Stomach Pains in Early Pregnancy
Pains in lower abdomen during pregnancy can be divided into two groups according the reasons of their occurrence: obstetric and non-obstetric.
Non-obstetric pains include those provoked by gastrointestinal tract's problems, stretching ligaments, surgical diseases (appendicitis) or overexertion of ABS muscles. Obstetric pains are those which involve the threat of termination of pregnancy, early placenta detachment, or an ectopic pregnancy.
In any case, only a professional can determine the pain's nature and reason. However, you can be absolutely sure that everything is perfectly normal, if you have the following signs in early pregnancy:
Light cramps that quickly go away. Such sensations either in one part of the abdomen or across it may be caused by ligaments' stretching due to the increasing uterus.
Regularly recurring cramps in the lower abdomen may indicate an internal restructuring of the body.
Light cramps accompanied by blood discharge in the time of a due menstruation or during first 7-10 days after the conception, are as a rule absolutely safe. They are caused by the process of the attachment of a fertilized egg to the uterine wall and early development of an embryo. This is normal and shouldn't cause any concerns.
However, be careful about changes that undergo in your body during first months of pregnancy. Pain in the abdomen might be caused by a spontaneous abortion (miscarriage in people).
Causes of Pain in Late Pregnancy
In late pregnancy, pains in the abdomen aren't always caused by a threat of a miscarriage or any pathology. There can be several reasons.
The first reason is the wrong diet or schedule of meals, which causes cramp of the digestive system accompanied by pain. The same symptoms are proper for disbacteriosis and colitis. Thus, the intestines copes badly with poorly treated food, stale foods, abundant meals, which causes bloating. When the digestive process ends, such a pain goes away, but it tends to return. In such a case, you need to carefully review your diet and meal times.
Don't forget, that close to the birth, the growing uterus squeezes the intestines. Moreover, hormonal changes put the double burden on the intestines. During this period, the motility and peristalsis are reduced. Constipation is also quite frequent, and it causes pulling pain in the lower abdomen. Recall that in order to prevent constipation you should consume more products containing raw fiber, drink enough water and walk outdoors.
The second reason is ligaments' stretching. Ligaments support the uterus. The increasing uterus causes ligaments' stretching. And in late pregnancy, this often causes gentle spasms in the lower abdomen, or painful sensations on one or both sides of the belly. Such a pain is more pronounced when you change positions, laugh, sneeze. It is sharp, but goes away quickly. In addition, such symptoms can be accompanied by stretch marks' appearance on the abdomen.
The third reason of abdominal pain in pregnancy is excessive load on your ABS. Such painful sensations often occur during or after physical exercise. To avoid it, simply take a rest and relax.
The fourth cause is intestinal obstruction, appendicitis or pancreatitis. Despite the fact that such reasons are quite rare, if you have such symptoms as growing stronger pain, fever, nausea and dizziness, be sure to call an ambulance. You might need a surgery.
The fifth cause are gynaecological problems testifying of improper pregnancy course and health problems.
The sixth reason is the threat of miscarriage. Pain in the lumbar area often feels like contractions and doesn't go away without drugs intake. If it's a premature termination of pregnancy, pain will be accompanied by vaginal discharge varying both in color (from light-brown to bright red) and in abundance. In such a case, immediately consult your doctor, this might be essential to save the baby.
The seventh reason is the premature detachment of the placenta that may occur either in late pregnancy or immediately before the birth. This condition can be triggered by physical overexertion, injury of the abdominal area, specific diseases (hypertension, toxemia, etc.). Severe pain in the lower abdomen accompanied by uterine bleeding is explained by the fact the placenta detachment triggers vessels' rupture. Such a condition is dangerous for both the baby and the woman, so immediately call an ambulance. Most likely an emergency delivery will be required.
Acute Pain in Pelvic Area
The uterus is held between the hipbones with connective-tissue ligaments. During pregnancy the uterus increases its weight causing the ligaments to stretch, which creates abdominal pain. Usually that kind of pain can be felt in the lower abdomen near the pelvis.
Usually this pain happens when a woman changes her body position (for example, turning too quickly), lifts a heavy weight or even sneezes or coughs. All that causes a sharp but short painful sensation that wears off on its own.
This pain can happen on any stage of the pregnancy. Sometimes they can happen less often or even disappear towards the end of the pregnancy. This abdominal pain is harmless for a future mom and her baby and doesn't need to be treated.
Dragging Pain in Lower Abdomen
The hormones produced during pregnancy affect the gastrointestinal tract so that food travels more slowly. That causes overdistension in some parts of intestinal tract and constipation. A woman can feel a dull aching pain in the sides of the lower abdomen (often in the left side) and have gas.
The discomfort disappears as soon as the food is digested but can happen again if a woman doesn't stick to a healthy diet. To avoid constipation, one needs to drink more water, eat fermented dairy products and foods rich in fiber (raw vegetables, fruits, whole grain bread). A good way to combat constipation and abdominal pain is to have some moderate physical exercise.
Pelvic Pain
During the pregnancy the body produces a special hormone called relaxin. That hormone influences the cartilage, ligaments, and bones of pelvic floor. This hormone softens the ligaments of the hipbones, which allows them to stretch to make it easier for the baby to travel through the pelvic ring during the delivery.
More often it's the symphysis pubis joint that moves and causes pain in the lower abdomen. The pain can vary from minor sensation to a more intensive one. It can be triggered by walking, changing your body position, sitting on a firm surface, walking up the stairs or lifting your legs while lying down.
A bandage can help reduce the pain. Another way of fighting this type of pain is a big soft fit ball that can be used instead of a chair. A visit to an osteopath can also be of help.
Abdominal Tightening
Starting in the 2nd trimester, a pregnant woman might experience an abdominal tightening, a condition when the uterus feels as hard as a stone. It can last from a few seconds to up to couple of minutes and happen up to 10 times per day. Those are practice contractions (Braxton Hicks contractions). This type of contraction is not too painful, but still can cause a discomfort and scare a future mom. It's quite normal to have Braxton Hicks contractions: this is the way your body is preparing to the baby birth.
Baby Kicks Pain
In the second part of the pregnancy baby grows very fast. It can't move freely in the uterus anymore. The baby's movements are less frequent but more intense and powerful. Those baby kicks can cause discomfort or even pain in the hypochondriac quadrant or lower abdomen (especially if the bladder is full). As unpleasant as they are these pains are natural and harmless.
When you experience painful baby kicks try to change your body position: bend forwards, get up, lie down on your side. Relax and take a couple of deep breaths, rub your belly and talk to the baby asking him to relax. Sometimes it's all what it needs.
How to Relieve Pain?
When you feel pain, sit down, pull legs forward and relax. If you rest, the pain will quickly go away.
You can also do the following:
Avoid sudden changes in body position, especially sharp turns in waist.
Take a walk, do some light physical activity (housework, for example), change your body position more often, it will help to relieve pain caused by flatulence.
Put on the lower abdomen a liter bottle filled with hot water, wrapped in a towel or a heating pad (you aren't recommended to take a larger bottle).
Take a warm bath or shower.
Make sure that you drink enough fluids.
When to See a Doctor?
Although light pain in the abdomen is normal for pregnant women, severe pain or cramps could testify of a serious problem. Severe pain can be caused by intestinal infections, food poisoning, urinary tract infection, appendicitis, kidney infection, kidney stones, gall bladder diseases or pregnancy complications (such as pre-eclampsia). If you have severe and/or persistent pain, consult your doctor immediately!
The same should be done if you have the following symptoms:
Strong intestinal colic;
Vaginal bleeding/spotting;
Fever or chills;
Dizziness and weakness.
Abdominal Pain During Pregnancy
Abdominal Pain During Pregnancy: Causes and Treatment
Abdominal pain during pregnancy can be a normal part of the process as your body changes to accommodate your growing baby. While there are many harmless causes of abdominal pain in pregnancy, some may be more serious. As an expectant mother, it is important to educate yourself on all potential causes so you are able to recognize symptoms that may cause concern.
Common Causes of Abdominal Pain During Pregnancy
Some abdominal aches and pains during pregnancy are quite common and generally pose no threat to you and your baby.
Round Ligament Pain: This can be characterized by a sharp stabbing pain when you change positions, or it can also be an achy, dull, lingering pain. Round ligament pain is caused by the two large ligaments that run from your uterus to your groin. As the uterus grows, these ligaments are stretched and create discomfort. This pain is generally reported in the second trimester, and considered to be harmless. Read the full Round Ligament Pain article.
Gas and Constipation: Gas during pregnancy is caused by increased levels of progesterone. As more of this hormone is released, your gastrointestinal tract slows down, which makes food travel more slowly. Drinking plenty of water, eating fiber rich foods, exercising, and using stool softeners are excellent ways to combat excessive gas and constipation. Learn more about Constipation during Pregnancy.
Braxton Hicks Contractions: Sometimes labeled "practice contractions," Braxton Hicks are more of a mild annoyance than a risk to you or your baby. Many women report that Braxton Hicks feel like a tightening of the stomach muscles so your stomach feels firm or hard. It is important to differentiate Braxton Hicks from true contractions. True contraction will be closer together, last for a longer period of time, and are painful. True contractions will take your breath away, so a general rule of thumb is that if you are able to carry on your normal activities, then it is most likely Braxton Hicks. Also, doctors report that Braxton Hick can be caused by dehydration, so drinking plenty of water can help eliminate this problem. Read more on Braxton Hicks Contractions.
Common Discomforts: In addition to those listed above, there are several other common abdominal discomforts that can be experienced during pregnancy and are generally non-threatening. Your growing uterus, stomach viruses, kidney stones, fibroids, and food sensitivities are all valid forms of harmless abdominal pain.
When Abdominal Pain During Pregnancy is Serious
Although many women who experience abdominal pain have healthy pregnancies, there are times when abdominal pain can pose a serious risk. If you exhibit any severe symptoms, such as those discussed below, please consult your medical care professional immediately.
Ectopic Pregnancy: Occurring in 1 out of 50 pregnancies, an ectopic pregnancy is when the egg is implanted anywhere other than the uterus. Most often, the egg is implanted in the fallopian tube. Sadly, an ectopic pregnancy cannot continue to term and requires medical treatment. In the unlikely event that you have an ectopic pregnancy, you may experience intense pain and bleeding between your 6th and 10th weeks of pregnancy. Women at increased risk for an ectopic pregnancy include those who have had an ectopic pregnancy in the past or have had endometriosis, a tubal ligation, or an intrauterine device (IUD) in place at the time of conception. Learn more about Ectopic Pregnancies.
Placental abruption: Placental abruption is a life-threatening condition in which the placenta separates from your uterus before the baby is born. One symptom of placental abruption is constant pain that causes your stomach to stay hard for an extended period of time without relief. Another sign is bloody fluid or premature breakage of your water. Additional symptoms include tenderness in your abdomen, back pain, or fluid discharge that includes traces of blood. You can access the complete Placental Abruption article here.
Miscarriage: The unfortunate truth is that 15 to 20 percent of pregnancies end in miscarriage making it the most common form of pregnancy loss. Sometimes referred to as "spontaneous abortion," miscarriage most often occurs in the first 13 weeks of pregnancy. Signs of a miscarriage include mild to severe back pain, true contractions (happening every 5-20 minutes), brown or bright red bleeding with or without cramps, tissue or clot-like material passing from the vagina, and a sudden decrease in other signs of pregnancy. Read the full article on Miscarriage.
Urinary Tract Infection: While easily treated during pregnancy, if ignored, a urinary tract infection can cause complications. Most often recognized by pain, discomfort, and/or burning when you urinate, UTIs can also produce lower abdominal pain. Should you notice pain in your lower back, the sides of your body under your rib cage or above your pelvic bone accompanied by fever, nausea, sweats, or chills, then it is possible that the UTI has spread to your kidneys. If this is the case, seek medical attention as soon as possible.
Preeclampsia: Preeclampsia is a condition in pregnancy characterized by high blood pressure and protein in the urine after 20 weeks gestation. Upper abdominal pain, usually under your ribs on the right side, can accompany other symptoms used to diagnose preeclampsia. Nausea, vomiting and increased pressure on your abdomen are additional symptoms that will affect your abdomen. Learn more about Preeclampsia.
When Should I Call My Doctor?
Please call your medical care professional immediately if any of the following symptoms accompany abdominal pain or discomfort:
Severe or persistent pain
Spotting or bleeding
Fever
Chills
Vaginal discharge
Light-headedness
Discomfort while urinating
Nausea and vomiting
Last updated: February 28, 2017 at 21:47 pm
Compiled using information from the following sources:
1. Clinic, Mayo, Complete Book of Pregnancy and Baby's First Year. New York, NY: William Morrow and Company, Inc.
2. Current Obstetric & Gynecologic Diagnosis & Treatment Ninth Ed. DeCherney, Alan H., et al.
3. Williams Obstetrics Twenty-Second Ed. Cunningham, F. Gary, et al, Ch. 10.
Abdominal Pain During Pregnancy
Lower Abdominal Pain
Many women experience lower abdominal pain during the early weeks of pregnancy. There are many reasons for this. For some women occasional or sporadic abdominal discomfort during pregnancy similar to menstrual cramps may simply be a sign that your uterus is preparing to carry your baby through the next nine months of pregnancy.
Many women will experience occasional bouts of Lower abdominal pain during pregnancy. While frightening at best abdominal pain during pregnancy is usually a normal and harmless condition. Lower abdominal pain during pregnancy can sometimes suggest a more serious problem however, so it is important you consult with your health care provider if you have any concerns regarding abdominal pain during pregnancy.
Abdominal pain that comes on suddenly, persistent, and severe, and associated with other problems such as nausea, vomiting, vaginal bleeding, or contractions suggests the pain is not due to normal pregnancy changes but some other problem.
Normal Changes in Pregnancy that Cause Abdominal Pain
The Enlarging uterus as it raises out of the pelvis places pressures on the lower back and abdomen and produces pain. The enlarged uterus may also compress the ureter, (the tube between the bladder and the kidney) making it difficult for urine to pass down the ureter causing intermittent severe lower abdominal pain. This pain can mimic the pain associated with passing a kidney stone, or bladder infection.
In addition, the Hormonal changes during pregnancy can decrease lower esophageal sphincter tone (esophageal reflux) causing symptoms of indigestion and dyspepsia.
Pregnancy Health Section
Pregnancy Related Causes of Abdominal Pain
Placental abruption — The separation of the placenta from the uterine wall prematurely can cause bleeding and severe lower abdominal pain in pregnancy. Placental abruption not only results in severe abdomen pain, but fetal distress for the unborn child. Delivery is immediately needed to avoid fetal death and serve maternal hemorrhage.
Uterine rupture — Uterine rupture can cause abdominal pain in pregnancy. Most uterine ruptures occur in childbirth while having a vaginal birth after cesarean section (VBAC). The previous cesarean section scar on the uterus opens up and allows the head of the baby to float in the abdomen. Not only is an uterine rupture associated with abdominal pain, it causes fetal distress, and heavy vaginal bleeding leading to shock.
Amniotic Fluid Infection — Infection of the amniotic fluid and sac the baby sits in can cause fever, abdominal pain, contractions and labor. It is commonly seen with premature rupture of the membranes.
Preterm Labor – Some women experience lower abdominal pain or cramping further along in their pregnancy. This may be a sign of premature labor. Preterm labor is typically characterized by regular abdominal contractions that start dilating and effacing the cervix. You may experience vaginal discharge that is a bloody mucous accompanied by cramping, or low back pain. Be sure you contact your doctor immediately to rule out premature labor. In many cases early labor can be stopped effectively allowing mothers to carry their baby to term.
Non-Pregnancy Related Causes of Lower Abdominal Pain
Acute appendicitis — Appendicitis is the most common cause of right quadrant, lower abdominal pain that requires surgery during pregnancy. The most symptom of appendicitis, is low grade fever and right lower quadrant pain.
Gallbladder disease —Pregnancy does increase the risk of developing gallstones. When the gallstones interfere with the gallbladder function the result is gallbladder disease. The symptoms of a poorly functioning gallbladder is a deep and gnawing pain that is intermittently sharp and severe. The abdominal pain is located in the right upper quadrant and may come and go.
Bowel obstruction — As the uterus increases in size during pregnancy the chance of bowel obstruction also increases. Previous scar tissue (adhesions) are the most common reason for bowel obstruction in pregnancy. Bowel obstruction will cause crampy abdominal pain with vomiting. Previous surgeries are the leading cause of adhesions that result in bowel obstructions.
Inflammatory bowel disease — The abdomen pain associated with inflammatory bowel disease is in the lower quadrants and usually associated with loose, bloody, mucous stool.
Pancreatitis — Rarely an inflamed pancreas can cause persistent upper abdominal pain. This pain typically radiates straight through to the back.
Perforated ulcer —Despite peptic ulcer disease getting better in pregnancy, sometimes a peptic ulcer will perforate. The abdomen pain will evolve over the first few hours after perforation. The pain will become very severe.
Nephrolithiasis — Kidney stones usually present in the second and third trimesters of pregnancy. The pain is in the flank and then travels to the lower abdomen. Blood is also present in the urine in most cases. Usually a kidney infection is associated with the stones.
Trauma — Motor vehicle accidents are the cause of two-thirds of trauma that causes abdominal pain in pregnancy. The pain can be associated with either blunt or penetrating trauma.
Sickle cell crisis — The vasomotor crisis seen with sickle cell disease can causes severe abdominal pain. The pain is difficult to distinguish from appendicitis or gallbladder disease.
Pneumonia — The lower lobe pneumonias commonly cause abdominal pain syndromes, specifically the right side. Abdominal pain can be the sole symptom in pregnancy with a lower lobe pneumonia.
Gastroenteritis — Severe abdominal pain results from maternal gastroenteritis and inflammation of the abdominal lymph nodes (mesenteric adenitis).
Thrombosis — Blood clots in the pelvic veins, liver and abdominal cavity (mesenteric veins) can cause poorly localized abdominal pain.
The good news is most women will experience mild abdominal discomfort throughout their pregnancy that occasionally occurs from the uterus stretching, from gas or even from constipation.
Abdominal Pain During Pregnancy: What Causes and Treatment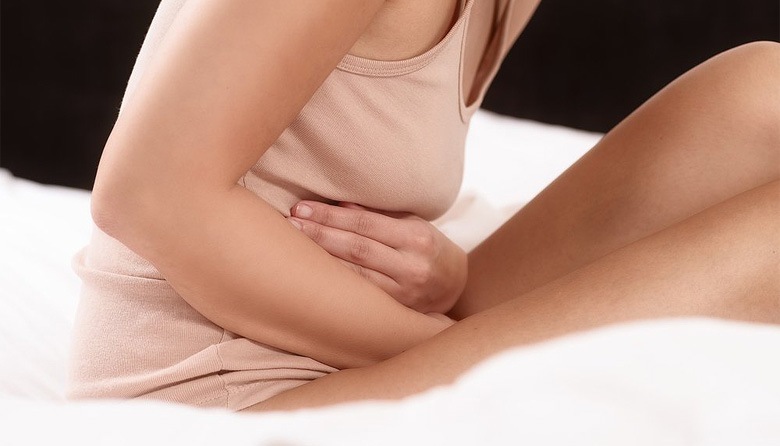 What is Abdominal Pain in Pregnancy?
Abdominal pain during pregnancy is a common complaint in most females as hormones are continuously changing at this time. Usually cramping are signs of digestive disorder or a notice to take ease from work. In some rare cases, they may also suggest a warning for conditions like-
Miscarriage – According to a medical survey, chances of miscarriages are highest in first three months. Abdominal pains and cramping during this time is very severe and is often accompanied by bleeding in vagina
Ectopic Pregnancy – In some cases the impregnated eggs implants itself outside the walls of uterus. Although the pregnancy results for such cases is positive but this pregnancy does not survive. As the egg starts growing larger, it loses its place. Sharp pain in abdomen and vaginal bleeding are signs for an ectopic pregnancy
Preterm Labor – In many cases, babies are born before their due date. Their arrival is announced by severe abdominal pain during pregnancy.
Placental Abruption – Usually placenta implants itself on higher walls of uterus and detaches only after birth of baby. Placenta provides necessary nutrients to baby and without its support it is impossible for fetus to survive. In some rare cases, placenta separates from uterus walls causing constant, severe and sharp abdominal pain during pregnancy. Sometimes when the birth time is near, doctors deliver baby through C-section.
Preeclampsia– This medical condition is usually after twenty weeks of pregnancy and includes high pressure in bloodstream and higher protein contents in urine. If preeclampsia is very severe, it is accompanied by upper abdominal pain during pregnancy as well as swelling, nausea and headache.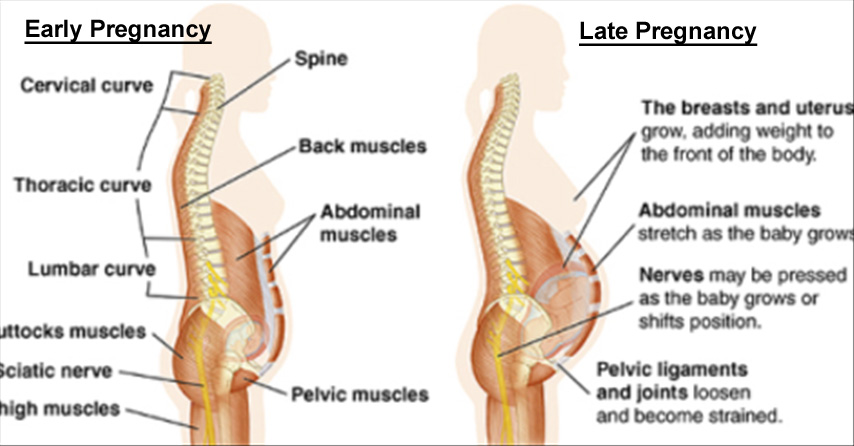 Causes of Pain in Abdomen During Pregnancy
Some harmless causes of pain in abdominal area are as follows:-
Growing uterus – As uterus continues to enlarge and grow at a normal speed, it starts displacing the bowel. This often causes abdominal distention and feelings of nausea and therefore results in cramping and pain
Round ligament pain – Round ligaments travel from uterus to groin and holds the uterus. When uterus starts enlarging it results in added weight on ligaments that start stretching and become thinner and longer. Lower abdominal pain during pregnancy is due to this added pressure on ligaments
Gas and Constipation – During pregnancy a pregnant body starts releasing progesterone hormones. An increased amount of these hormones slows down functioning of gastrointestinal tract and results in slow traveling of food. Gas and constipation are common and leads to abdominal pain
Braxton-Hicks Contraction – Dehydration can cause such contractions because of lack of proper fluids in body
How to Ease Pain in Abdominal Area
The following steps provide ease in abdominal pain:-
Gently rubbing lower portion of back
Relaxing with a comfortable pillow which provides ample support to abdomen and back
Taking gentle exercises like swimming and walking in moderation
Eating little but frequent meals eases stomach muscles and avoids pain
Drinking at least ten glasses of water avoids gas, constipation and give relief to abdominal pains
Eating fresh fruits, green vegetables and whole grain products is beneficial in keeping stomach muscles in smooth working condition
Emptying bladder at frequent intervals
A pregnant woman gets easily tired therefore, it is necessary to rest at regular intervals
По материалам:
Http://infobaby. org/Abdominal_Pain_During_Pregnancy/
Http://americanpregnancy. org/pregnancy-complications/abdominal-pain-during-pregnancy/
Http://www. womenshealthcaretopics. com/preg_abdominal_pain. htm
Http://www. pregnancyhealth. net/abdominal-pain-during-pregnancy/